Complete E-Commerce website development online
Your New E-Commerce Website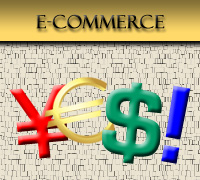 Online commerce isn't just for the big guys; even one-person enterprises can reap the rewards of selling over the Net. If you're a small-to-medium business, there's no reason to shy away from this great money-making opportunity; we have the core competencies you need to get you online with a solid and easy-to-use e-commerce solution tailored to your needs. Here's some information to help get you started.
This is one of the basics. Shopping Carts provide you with a platform to sell your products online. There are literally hundreds of e-commerce solution-providers who offer to set you up with a shopping cart for a "modest fee" — that you end up paying for until retirement!
Our services are inexpensive, and we charge no ongoing monthly fees. We have experience with a range of shopping carts, and can provide you with the best solution adapted to your business.
A merchant clearinghouse is an organization which processes your transactions for you. One well-known example of this is PayPal. The clearinghouse takes care of all of the details of buyer credit card validation, buyer identification, and fraud protection — and passes the purchase money back to you, the vendor. We work with a number of different clearinghouse companies, whose terms and pricing vary. We'll be able to advise you on the best organization for your particular needs.
So now you know a little bit about E-Commerce. What do you need to do to get started?
Registration, Hosting, Custom design/development of your online store, SEO, Secure customer checkout, Credit card processing, Shopping cart
What you can expect from us
Design of your online store, in consultation with you
Development, configuration, and final deployment of your store
Registration of your domain with the domain authorities
Transfer of your website to your hosting provider when going live
Submission of your site to Google, Yahoo, and Bing
Ongoing support
Your own dedicated account manager
A collaborative effort between us and you, every step of the way
What you can expect from your E-Commerce Site
Modern design with polished "look & feel"
Great, fast loading pages
Secure customer accounts and secured checkout for customer security
Credit card processing
Searchable product database for visitors to find what they need
User friendly navigation menu
Site map to help visitors find what they are looking for
Product administration to add, delete, and update all product information
Information request forms to allow customer feedback and inquiries
Stop Waiting – Start Selling
Are you ready to get started? Tell us about your needs!